Enlist Our Ford Service Pros for the Best Maintenance and Repairs in Chula Vista, San Diego, El Cajon and La Mesa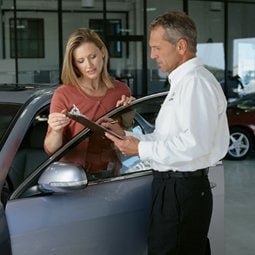 We know that you chose the Ford brand for a reason. You love how the Ford name has maintained a reputation by offering decades of reliable support and dependability. It's no secret that keeping your Ford Edge, Escape, Explorer, or Flex in top shape has a lot to do with maintenance, which is why our team is here. 
At our dealership, you can find a team of devoted technicians who have been trained to work on your Ford F-150. With this knowledge, we can perform any necessary work to keep your vehicle running at its best for as long as possible.
Quality Repairs & Ford Parts
We want our customers to know that taking the time to have your Ford Focus, Fiesta, Fusion, or Mustang see by our team of experts is an integral step towards longevity. Our service department keeps track of the repairs and appointments your vehicle has been here for, which helps you see to it that you don't miss a single one. You can always contact us to discuss potential repairs, and if you see the dreaded check engine light warnings, our team of technicians can diagnose the problem quickly.
What car maintenances services are offered in Chula Vista?
We have all the tools needed right here in our shop to fix any issues that may arise, perform warranty work, handle recalls, and take care of necessary maintenance. Your oil change, brake repair, tire rotation, or tune-up is in good hands here, and our team has access to everything the Ford brand needs to stay at its best. With several service bays to use, we can accommodate many cars at one time so you don't have to wait as long as you might with an independent shop.
For an appointment, visit our service department here in Chula Vista Ford dealership serving San Diego, El Cajon, and National City. You can also schedule your appointment online right through our website, and our team will contact you to confirm. Get great service from people who are trained to work on your Ford vehicle and drive home with peace of mind.